Freeware to access your PC from remote locations : A A S Application Access Server
Problem: Freeware to access your PC from remote locations
Solution: A A S Application Access Server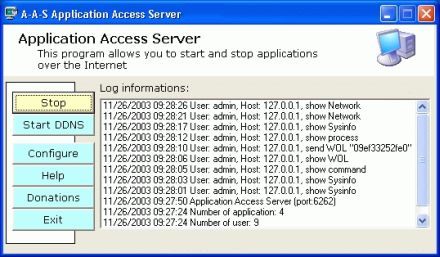 Ultimate Freeware List: I want a Freeware Utility to …450 common problems solved.
A-A-S Application Access Server
The A A S Application Access Server makes the PC administration possible over LAN and WANs.

So you should look for a tool this shall start programs, stop services, manage processes, deinstall software or simply report system information over the internet. The A-A-S is a good choice.
…
If you are new to eConsultant : Subscribe : RSS Feed | Follow us on : Twitter : eConsultant | FriendFeed : eConsultant | Soup.io : eConsultant | tumblr : eConsultant
Next Post :
Freeware to connect securely from remote locations via VPN : EasyVPN by Comodo
Previous Posts :
Your turn. Add your comment.
You must be logged in to post a comment.