Print 2011 Calendar : Single Page (Annual)
Update: 2012 Calendars 2012 Single Page (Annual) | 2012 Two Pages (Semi-Annual) | 2012 Three Pages (4 Months / Page) | 2012 Four Pages (Quarterly) | 2012 Six Pages (Bi-Monthly) | 2012 Twelve Pages (Monthly) | 2012 Fifty Two Pages (Weekly) | 2012 365 Pages (Daily)
2011 1 Page Landscape PDF Calendar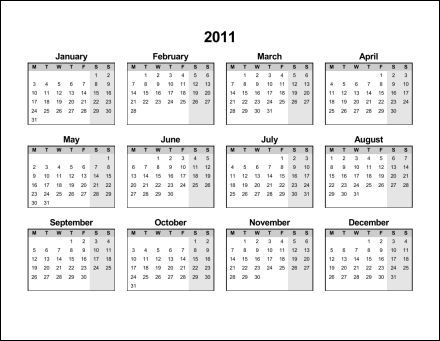 2011 1 Page Landscape Microsoft Word Calendar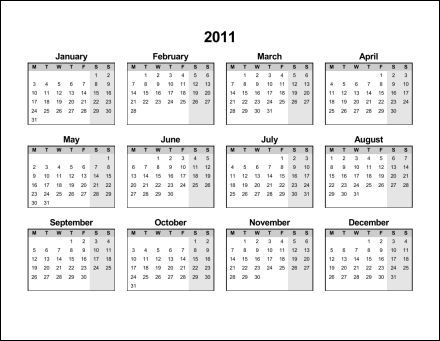 2011 1 Page Portrait PDF Calendar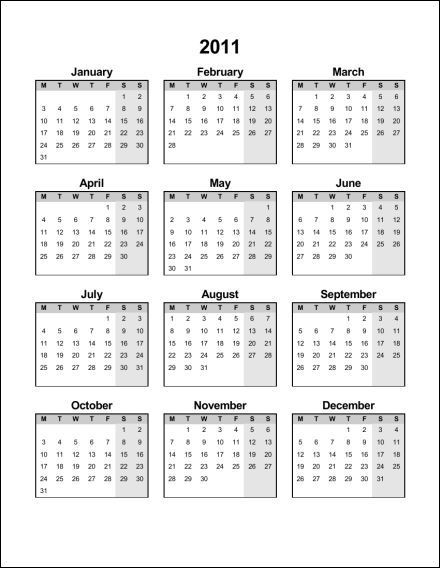 2011 1 Page Portrait Microsoft Word Calendar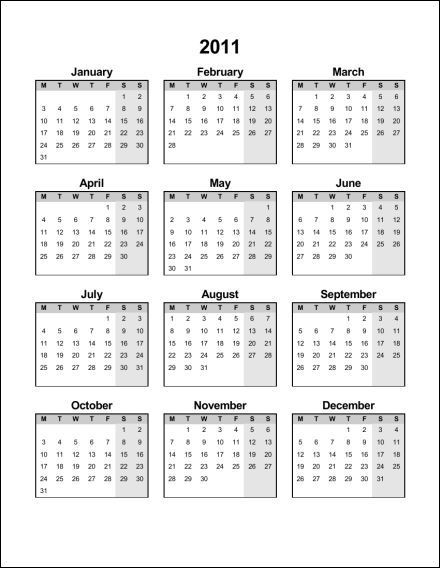 2011 1 Page Bordered Landscape PDF Calendar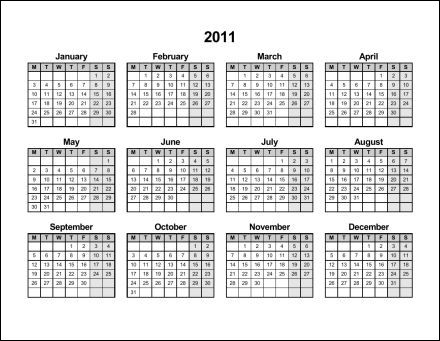 2011 1 Page Bordered Landscape Microsoft Word Calendar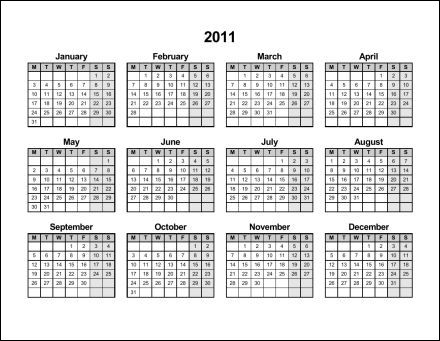 2011 1 Page Bordered Portrait PDF Calendar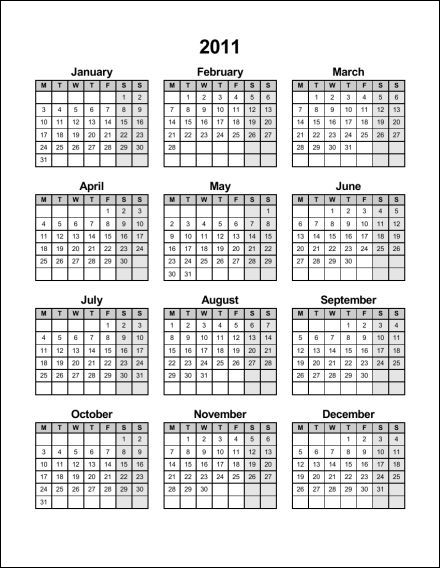 2011 1 Page Bordered Portrait Microsoft Word Calendar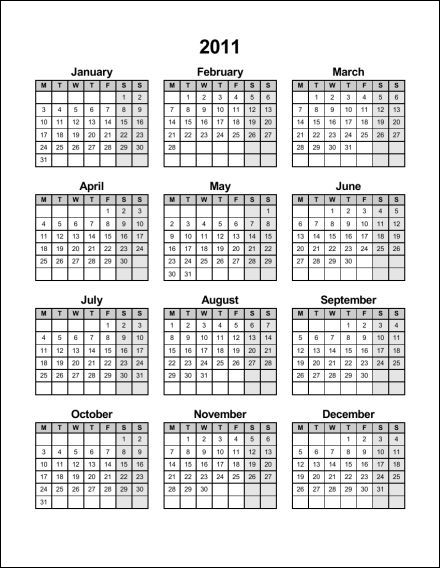 2011 1 Page Calendar with Notes Landscape PDF Calendar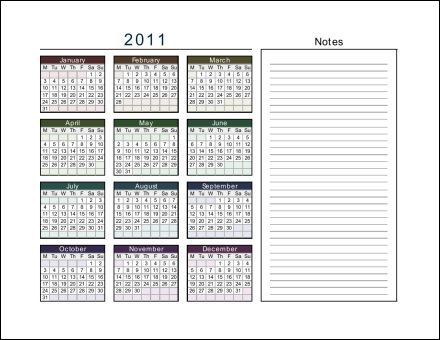 2011 1 Page Calendar with Notes Portrait PDF Calendar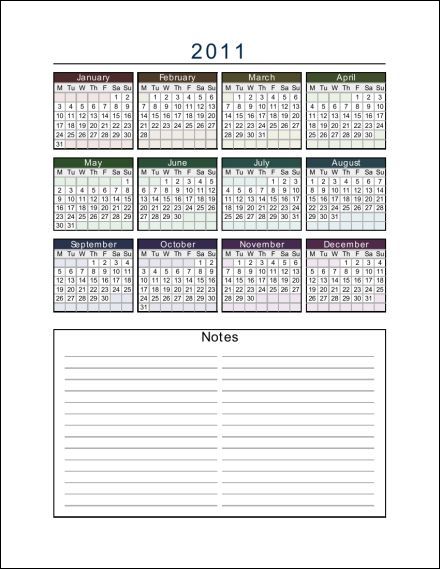 2011 1 Page Color 365 Checkboxes Landscape PDF Calendar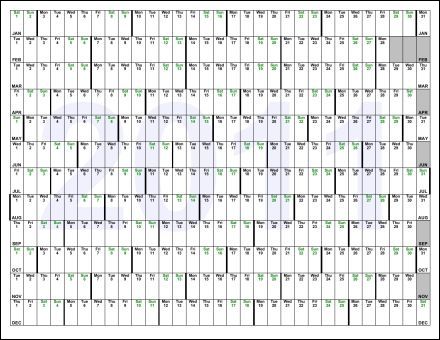 2011 1 Page Clean Landscape PDF Calendar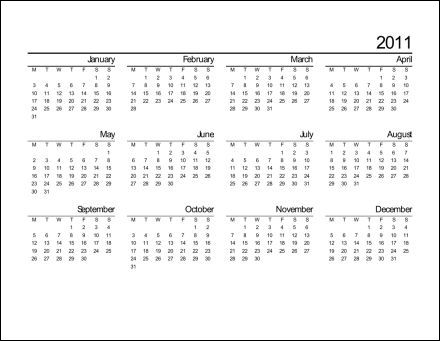 2011 1 Page Clean Landscape Microsoft Word Calendar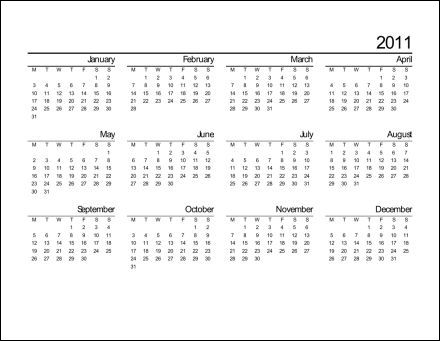 2011 1 Page Julian Portrait PDF Calendar
2011 1 Page Julian Portrait Microsoft Word Calendar
2011 1 Page Julian Weeknumber Portrait PDF Calendar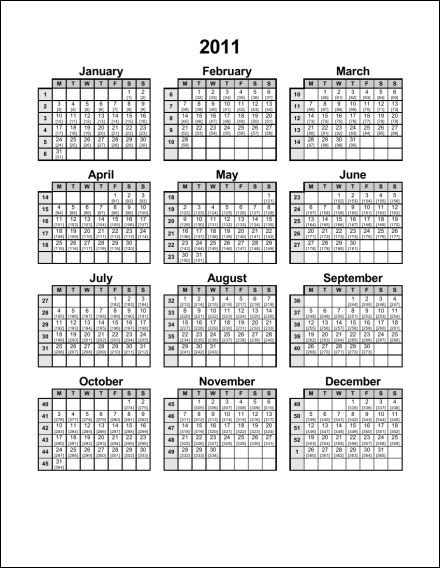 2011 1 Page Julian Weeknumber Portrait Microsoft Word Calendar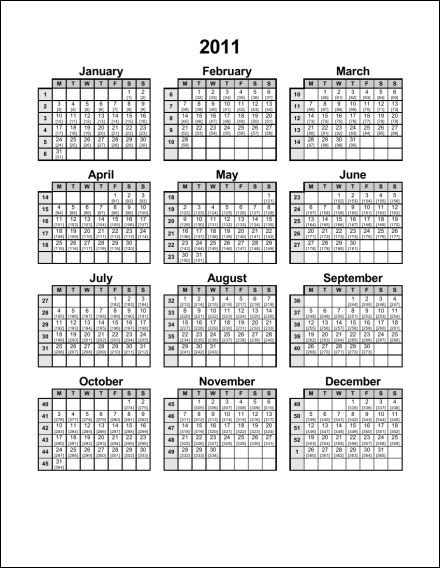 2011 1 Page 365 Checkboxes Landscape PDF Calendar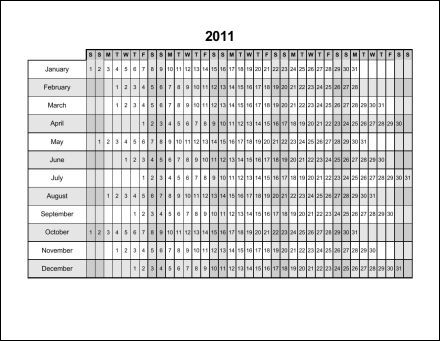 2011 1 Page 365 Checkboxes Landscape Microsoft Word Calendar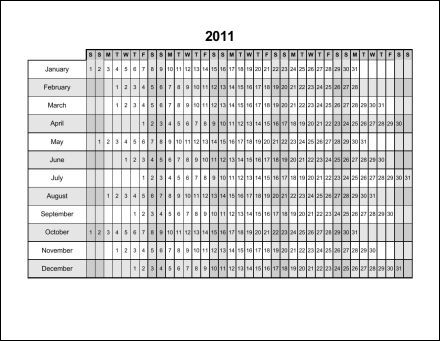 2010 2011 1 Page Multi Year Portrait PDF Calendar
2010 2011 1 Page Multi Year Portrait Microsoft Word Calendar
2011 2012 1 Page Multi Year Portrait PDF Calendar
2011 2012 1 Page Multi Year Portrait Microsoft Word Calendar
2010 2011 2012 1 Page Multi Year Portrait PDF Calendar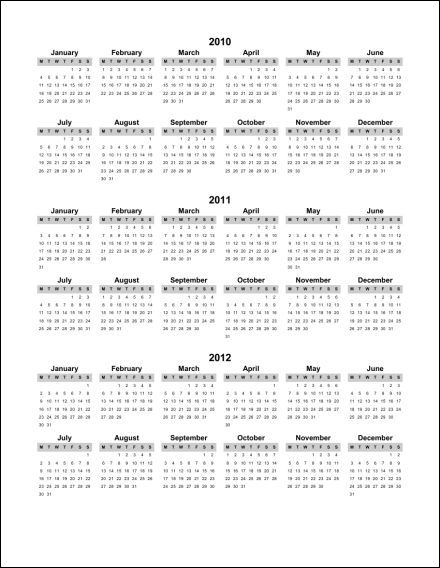 2010 2011 2012 1 Page Multi Year Portrait Microsoft Word Calendar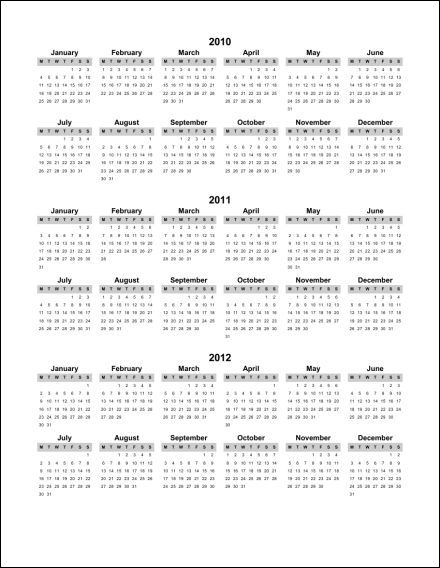 2011 2012 2013 1 Page Multi Year Portrait PDF Calendar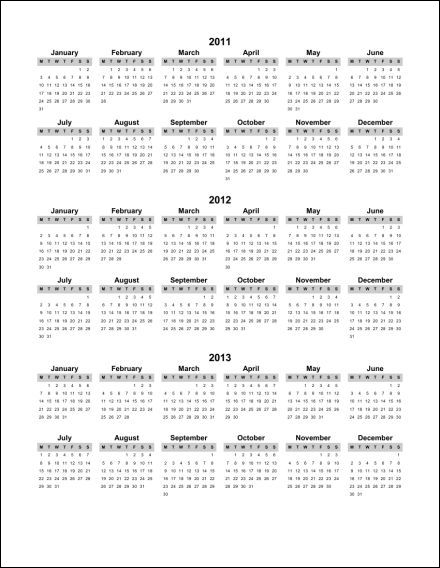 2011 2012 2013 1 Page Multi Year Portrait Microsoft Word Calendar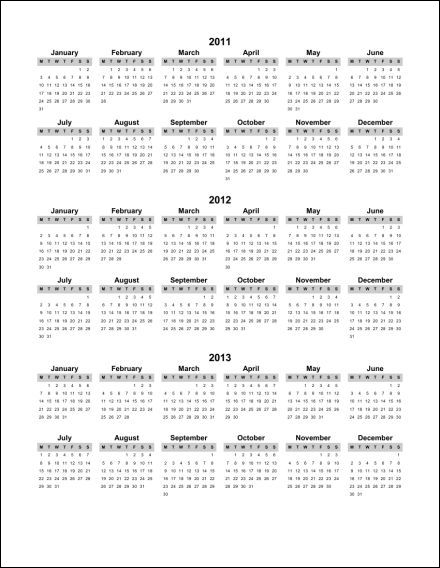 2011 1 Page Dodecahedron PDF Calendar
More 2011 Calendars
2010 Calendars : 2010 Single Page (Annual) | 2010 Two Pages (Semi-Annual) | 2010 Three Pages (4 Months / Page) | 2010 Four Pages (Quarterly) | 2010 Six Pages (Bi-Monthly) | 2010 Twelve Pages (Monthly) | 2010 Fifty Two Pages (Weekly) | 2010 365 Pages (Daily)
2009 Calendars : 2009 Single Page (Annual) | 2009 Two Pages (Semi-Annual) | 2009 Three Pages (4 Months / Page) | 2009 Four Pages (Quarterly) | 2009 Six Pages (Bi-Monthly) | 2009 Twelve Pages (Monthly) | 2009 Fifty Two Pages (Weekly) | 2009 365 Pages (Daily)
2008 Calendars : 2008 Single Page (Annual) | 2008 Two Pages (Semi-Annual) | 2008 Three Pages (4 Months / Page) | 2008 Four Pages (Quarterly) | 2008 Six Pages (Bi-Monthly) | 2008 Twelve Pages (Monthly) | 2008 Fifty Two Pages (Weekly) | 2008 365 Pages (Daily)
If you are new to eConsultant : Subscribe : RSS Feed | Follow us on : Twitter : eConsultant | FriendFeed : eConsultant | Soup.io : eConsultant | tumblr : eConsultant
Next Post :
Print 2011 Calendar : Two Pages (Semi-Annual)
Previous Posts :
One Response to "Print 2011 Calendar : Single Page (Annual)"
Calendari 2011 gratuiti - ByBab Blog Hi Tech & Geek – Informatica, Tecnologia e Business Says:
January 2nd, 2011 at 8:07 am

[…] anno una serie di calendari 2011 gratuiti in PDF pronti per il download e la stampa. Il sito è Ask the eConsultant, e troverete calendari già pronti privi di pubblicità e in tanti formati (annuali, mensili, […]
Your turn. Add your comment.
You must be logged in to post a comment.