Top 3 Craigslist Multiple Cities Search Sites
These sites let you search multiple cities in Craigs List or search by zipcode or search within some miles of your city.
SearchTempest
Your browser sends the search requests directly to craigslist, and the listings you see in the results window are exactly the same as if you'd gone to the craigslist sites and entered the searches manually. (Previously: SearchTempest)
Search All Craig's
Ever wanted to search ALL craigslist sites at once? (Previously: Search All Craig's)
Crazedlist
Crazedlist allows you to search multiple craigslist.org sites at once. (Previously: Crazedlist)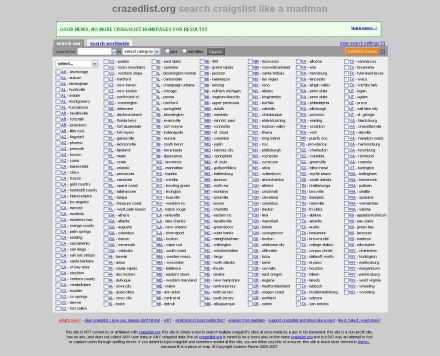 If you are new to eConsultant : Subscribe : RSS Feed | Follow us on : Twitter : eConsultant | FriendFeed : eConsultant | Soup.io : eConsultant | tumblr : eConsultant
Next Post :
Five Commandments of Social Media
Previous Posts :
2 Responses to "Top 3 Craigslist Multiple Cities Search Sites"
thedizzer Says:
April 19th, 2009 at 9:12 pm

I don't see how http://allofcraigs.com isn't on this list, especially over searchallcraigs, which isn't that spectacular. At least with allofcraigs, you have more search refinement, such as: price, region, category, etc…. Then again, it's only as good as google wants it to be.

MaryJ Says:
June 13th, 2009 at 11:51 pm

http://craiglook.com has better search with picture previews. In addition, you can also search within specific ZIP/radius, not

You can reply to postings anonymously and can bookmark results while browsing which is also very convenient
Your turn. Add your comment.
You must be logged in to post a comment.