Top WordPress Blogroll / Links Plugins
My Link Order
Use: WordPress plugin to change the order of links in link categories with sidebar widget
Link: My Link Order at WordPress.org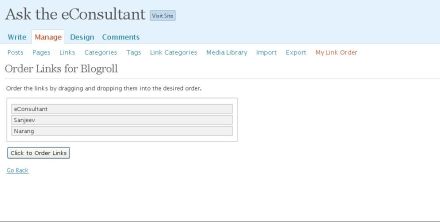 Enhanced Links
Use: WordPress plugin to control manage links list with a sidebar widget
Link: Enhanced Links at WordPress.org
I want a WordPress Plugin to …
See More: I want a WordPress Plugin to … 450+ common problems solved
If you are new to eConsultant : Subscribe : RSS Feed | Follow us on : Twitter : eConsultant | FriendFeed : eConsultant | Soup.io : eConsultant | tumblr : eConsultant
Next Post :
What was the average 30-year mortgage rate in May 1984
Previous Posts :
One Response to "Top WordPress Blogroll / Links Plugins"
Yebo Yes, Together we can!!! » Don't Waste your Time with Professional Web Designers Says:
July 14th, 2008 at 12:30 am

[…] manage links list with a sidebar widget : Enhanced Links  Suggest some more for this list: Top Blogroll / Links Plugins  add button for AddThis social bookmarking service : AddThis Sidebar Widget  add button for […]
Your turn. Add your comment.
You must be logged in to post a comment.