Top 4 WordPress Mobile / PDA / iPhone
WordPress PDA and iPhone
Use: WordPress plugin to allow iPhone PDA devices users to read the blog
Link: WordPress PDA and iPhone at WordPress.org
WordPress Mobile Edition
Use: WordPress plugin to allow mobile PDA users to view blog posts faster
Link: WordPress Mobile Edition at WordPress.org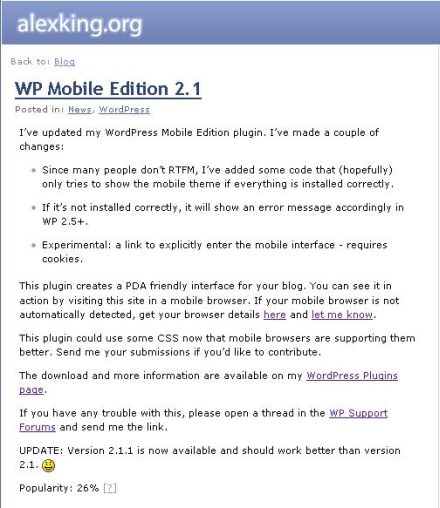 WPhone
Use: WordPress plugin to manage blog with iPhone
Link: WPhone at WordPress.org
iPhone / Mobile Admin
Use: WordPress plugin to use the admin panels with iPhone mobile PDA devices
Link: iPhone / Mobile Admin at WordPress.org
I want a WordPress Plugin to …
See More: I want a WordPress Plugin to … 450+ common problems solved
If you are new to eConsultant : Subscribe : RSS Feed | Follow us on : Twitter : eConsultant | FriendFeed : eConsultant | Soup.io : eConsultant | tumblr : eConsultant
Next Post :
Top 5 WordPress Music Plugins
Previous Posts :
One Response to "Top 4 WordPress Mobile / PDA / iPhone"
Rich Gubby Says:
August 5th, 2009 at 6:56 am

Hi,

I've written another one to add to this list: "Wapple Architect Mobile Plugin for WordPress"

It's been designed so that all URLs and SEO are retained from mobile to web, styling is kept so as to preserve the user experience and every device in the world is catered for, even those that haven't even left the lab!

There are a ton of features available and the plugin is currently at version 1.3, if you fancy checking it out, the home page can be found here: http://wordpress.org/extend/plugins/wapple-architect/

It'd be great to hear some feedback – hopefully you'll think it good enough to feature on your list!
Your turn. Add your comment.
You must be logged in to post a comment.