Top 5 WordPress Music Plugins
Audio player
Use: WordPress plugin to add a single mp3 player in posts
Link: Audio player at WordPress.org
Inline mp3 player
Use: WordPress plugin to allow readers to play mp3 in blog posts
Link: Inline mp3 player at WordPress.org
Last.Fm Records
Use: WordPress plugin to display CD covers of last.fm songs with sidebar widget
Link: Last.Fm Records at WordPress.org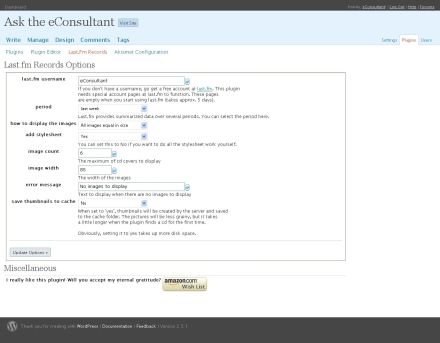 Last.fm for WordPress
Use: WordPress plugin to display recently listened songs from Last.fm
Link: Last.fm for WordPress at WordPress.org
wordTube
Use: WordPress plugin to stream audio video graphic files
Link: wordTube at WordPress.org
I want a WordPress Plugin to …
See More: I want a WordPress Plugin to … 450+ common problems solved
If you are new to eConsultant : Subscribe : RSS Feed | Follow us on : Twitter : eConsultant | FriendFeed : eConsultant | Soup.io : eConsultant | tumblr : eConsultant
Next Post :
What was the average 30-year mortgage rate in December 1983
Previous Posts :
One Response to "Top 5 WordPress Music Plugins"
450+个Wordpress插件整理(二) | 小墨|博客 Says:
April 22nd, 2009 at 7:01 am

[…] 6. Suggest some more for this list: Top Music Plugins […]
Your turn. Add your comment.
You must be logged in to post a comment.