Top 7 WordPress Sidebar Plugins
Admin Links Widget
Use: WordPress plugin to add links to admin dashboard with sidebar widget
Link: Admin Links Widget at WordPress.org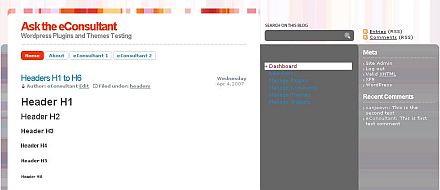 Random Posts Widget
Use: WordPress plugin to display a list of random posts in a sidebar widget
Link: Random Posts Widget at WordPress.org
Google PageRank
Use: WordPress plugin to display Google PageRank on the blog
Link: Google PageRank at WordPress.org
KB Advanced RSS Widget
Use: WordPress plugin to display RSS feed in sidebar
Link: KB Advanced RSS Widget at WordPress.org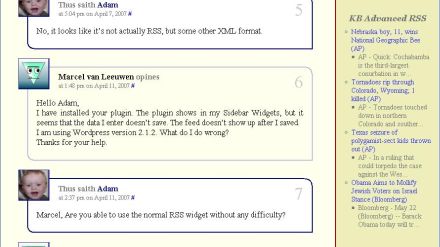 Sideblog WordPress Plugin
Use: WordPress plugin to post short quick posts in the sidebar
Link: Sideblog WordPress Plugin at WordPress.org
Countdown Timer
Use: WordPress plugin to track a countdown to/from an event goal
Link: Countdown Timer at WordPress.org
KB Countdown Widget
Use: WordPress plugin to track a countdown to/from an event goal
Link: KB Countdown Widget at WordPress.org
I want a WordPress Plugin to …
See More: I want a WordPress Plugin to … 450+ common problems solved
If you are new to eConsultant : Subscribe : RSS Feed | Follow us on : Twitter : eConsultant | FriendFeed : eConsultant | Soup.io : eConsultant | tumblr : eConsultant
Next Post :
Top 15 WordPress Stats / Statistics Plugins
Previous Posts :
One Response to "Top 7 WordPress Sidebar Plugins"
Mike Says:
December 29th, 2010 at 7:57 am

Here's a plugin that lets you create custom sidebar content or widgets for each page or post. The Graceful Sidebar Plugin creates a widget which you can populate with custom content based on the pages or posts on your blog.

Enjoy!
Your turn. Add your comment.
You must be logged in to post a comment.